The students Kings Bar School, central Quebec, will participate in April, the Jean-Pictet Competition in Collonges-la-Rouge, near Nimes, France.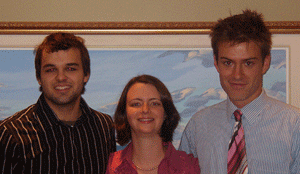 Vincent de l'Etoile, Marie-Helene Dufour, Philippe Vaillancourt
Vincent de l'Étoile, Marie-Hélène Dufour and Philippe Vaillancourt form one of the 18 French-speaking teams selected for this competition, which focuses on learning international humanitarian law through role-plays. (To these French-speaking teams of the 2005 edition are added 30 English-speaking teams from all over the world.)
Too general
The three students, accustomed to the moot court competitions, become familiar with international humanitarian law through numerous readings before facing their rivals in April.
" This is a subject that we do not have the opportunity to be introduced to the baccalaureate, explains Vincent de l'Étoile.We have a course of international law which is very general.It touches all the aspects, as much the war than the more commercial aspects . "
Although Canada is not affected by conflicts on its soil, the Pictéistes de Québec say they are concerned by this aspect of the law that is valued by the Jean-Pictet Competition.
On the road to emulation
The event, which has existed since 1989, was named in honor of Jean Pictet, Doctor of Laws at the University of Geneva . The latter has worked in the International Committee of the Red Cross and is the author of the Commentaries on the Geneva Conventions and their Additional Protocols.
Wanted boost
Vincent de l'Etoile and Philippe Vaillancourt move towards business law. As for Marie-Hélène Dufour, she wants to focus her practice on administrative law. These three " bearers of words " are seeking financial support for their mission.